Algiros | Valencia
– For a long time I didn't know the district I was living in very well. I always thought that Algiros wasn't the place with the nice bars and restaurants. I thought for those nice spots you have to be in popular districts like Ruzafa and El Carmen. However, my Spanish friend Rosa woke me up and said: "What! Algiros has a lot of good places to eat or have some drinks." She made a list for me. Tanto Monta was one of the bars on her list. She marked it with a star, because Tanto Monta was in her opinion one of the best.
The best pinchos in Valencia
So on a certain evening we went to Tanto Monta, because how nice is it to have a good tapas bar on just a few minutes distance. We picked out a few to try and I was stunned. Until then, I had never eaten such good tapas. Actually it's called pinchos, because it's tapas on a piece of bread. They have around 15 different types and all of them are delicious! My favourites are: the pincho with pulpo (squid) and potatoes, the goat cheese with a sweet jam topping and the one with jamon serrano (serrano ham) and brie.
Cosy atmosphere
Not only their pinchos are great, the bar also has a very good atmosphere and a great bartender! It's also a perfect place if you prefer a less touristic spot. You mainly see locals and sometimes some lost tourists.
Summarized: the best pinchos in Valencia you can eat at Tanto Monta. It's a great tapas bar with always a very good atmosphere. Therefore Tanto Monta is my favourite pinchos bar and I definitely recommend everyone to go there.
Tip!
Good to know: They don't take reservations, so you actually have to be lucky. But normally everyone waits at the bar with a drink until a table gets free. And at Tanto Monta waiting is not bad at all, because like I said earlier: there is always a cosy atmosphere.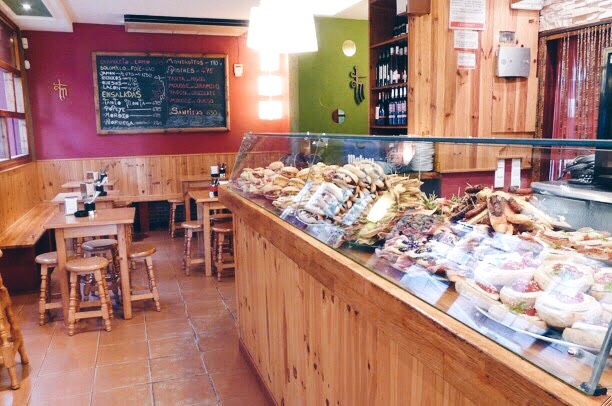 I hope you liked my tip/recommendation of this tapas bar in Valencia. You can always let me know in a comment! 🙂
Love, Sofie
Personal tips about visiting Valencia and moving to Valencia