The benefit of cycling is that you can cover big distances, definitely if you compare it by discovering the city walking. Because of the total size of Valencia (the third biggest city in Spain), you sometimes need to cover big distances. For example to discover some nice neighbourhoods of the city, the Turia Gardens and to go to the beach. Don't doubt anymore, rent a bike and go! Fine bikes can be rented at MarBikes in Carrer del Mar 60. It is a small business and the owner is really friendly.
1.Start – neighbourhood El Carmen
We start the route in the district El Carmen. This is my favourite neighbourhood in the city. What I especially like about this neighbourhood are the old elements mixed with new elements. The old elements are mainly the houses and nice narrow streets, but also beautiful old buildings such as the old city gate Torres de Serranos. The new elements are for example the street art and the trendy shops and bars.
Where to cycle along: Torres de Serranos, Plaza del Carmen, Torres de Quart, Plaza Tossal
Where you have to put your bike aside and take a look: Museum Centro del Carmen, Museum IVAM, the shops Santo Spirito Vintage and Kaif and bars like Fox Congo, Radio City, Unic and Café Infanta
Where to eat: Taberna El Olivo, Viva Mascaraque, Maria Mandiles, Restaurante IO and Almalibre Acai Bar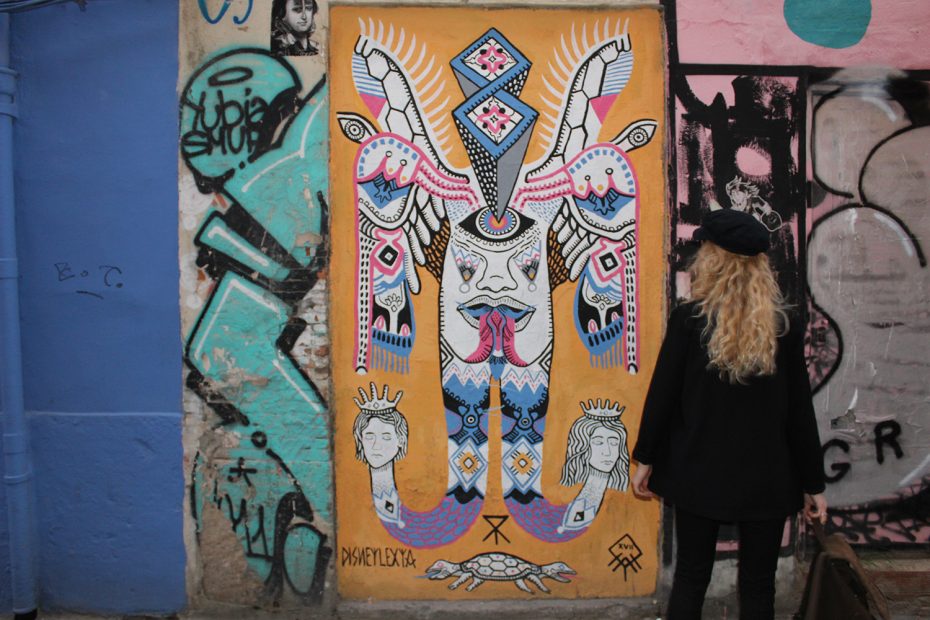 2.The old center
From Plaza Tossal in the district El Carmen you can easily cycle through Carrer del Moro Zeid to Valencia's covered fresh market: Mercado Central. Close to the Mercado Central you can find the beautiful silk fair La Lonja. In the area of La Lonja it's nice to walk around and discover hidden shops and bars. One of those hidden shop is for example Simple. You can find the perfect gift for your love, family and friends. Or of course for yourself ;-).
After you visited the market hall and La Lonja, it is nice to cycle to the Cathedral of Valencia. Just for a few euros you can climb the tower. You will have a beautiful view over the city! It's also nice to enjoy a drink on one of the beautiful squares that you can find around the Cathedral. You should try a typical Valencian cocktail: Agua de Valencia!
When you've seen this part you cycle to Plaza del Ayuntamiento: the town hall square. This is one of the most famous squares in Valencia and therefore very nice, but if you want to discover a cute hidden square, you have to go to Plaza Rodrigo Botet.
Where to cycle along: Plaza Redonda, Plaza la Virgen, Plaza la Reina, Plaza del Ayuntamiento and Plaza Rodrigo Botet
Where you have to put your bike aside and take a look: Mercado Central, La Lonja, the Cathedral, shops such as Simple and the 'street of the baskets'. This is a street full of shops with wicker baskets, bags and toys. The street is called Calle Músico Peydró
Where to eat: Muez Café, Tinto Fino, La Pappardella, Jamon Jamon and El Encuentro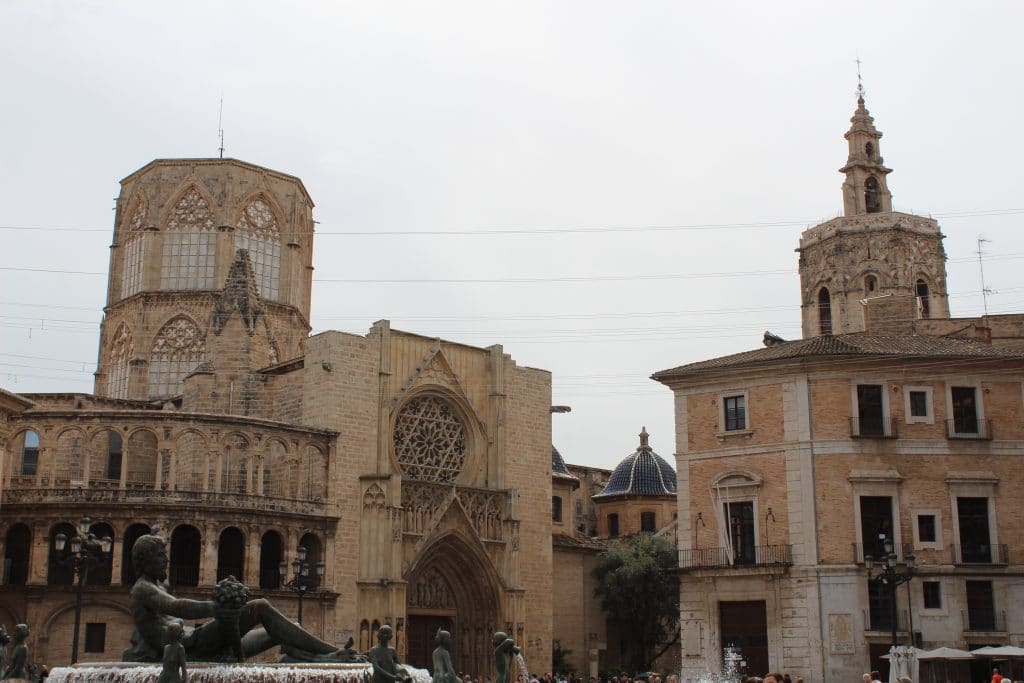 3. The district Ruzafa
After visiting Plaza Ayuntamiento you continue your route to the Valencian train station: Estacion del Norte. The building is made in a modernistic style with beautiful details on the facade. Next to the train station you can find the bullring of Valencia: Plaza de Toros. And yes, these bullfights are still being organized. Bullfighting mainly takes place during holidays.
Via the street between the train station and Plaza de Toros Carrer d'Alacant and Calle Cuba you can easily cycle into the district Ruzafa. Did you know that Ruzafa means garden in Arabic? The Arabs spent a long time in Valencia and the district Ruzafa was used as a garden. Ruzafa is now considered the most trendy district in Valencia.
Where to cycle along: Estacion del Norte, Plaza de Toros, Iglesia Parroquial (Cathedral), Casa Judia (colored Jewish house)
Where you have to put your bike aside and take a look: Mercado de Ruzafa, shops like Gnomo, Madame Mime (second hand), Kauf Vintage and Savage
Where to eat: coffee bars like: Artysana, Blue Bell and Dulce de Leche, tapas bars like: El Rus, Ubik and El Rebujito and modern restaurants such as Copenhagen, Canalla Bistro and El Almacen NCR
Next to the trendy district Ruzafa, you can find the chicest district of Valencia: Canovas. The rich Valencians live in the area. You will directly notice it because of the beautiful apartment complexes and the expensive boutiques. It's nice to walk around and see some shops. Besides the district has some very good restaurants and nice bars.
Where you have to cycle along: Mercado Colon (used to be a fresh market, now a relax area with bars) and the Basilica San Vicente Ferrer
Where you have to put your bike aside and take a look: Mercado Colon is not only beautiful on the outside, but also on the inside! And shops such as Ese o Ese and Loreak
Where to eat: La Turqueta, Sorsi e Morsi and Mercatbar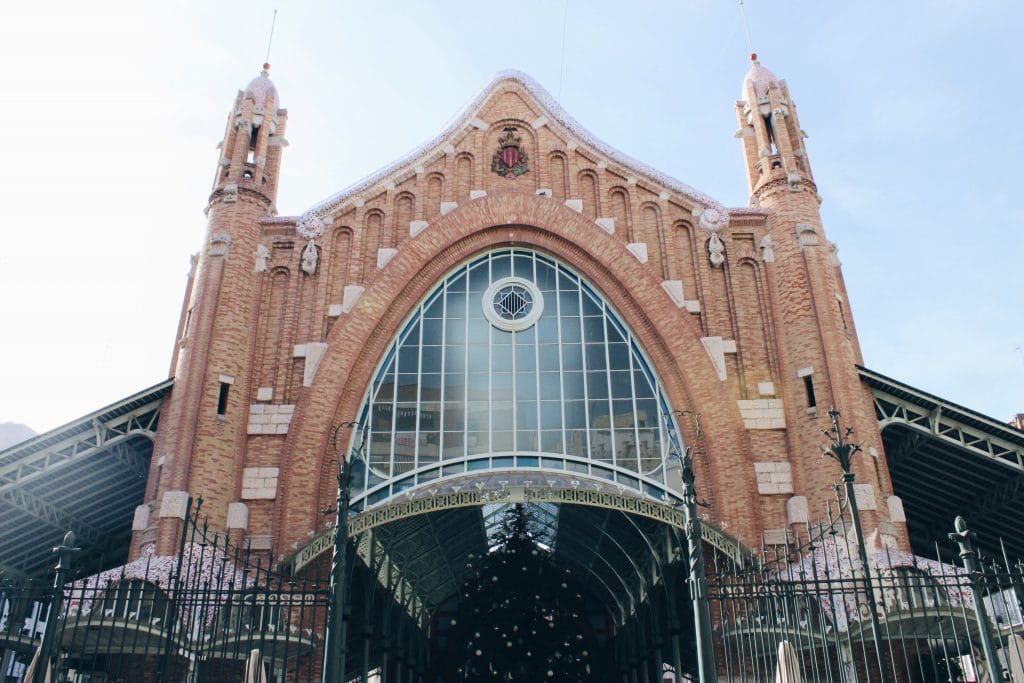 5.Turia Park
If you have seen the district Canovas, you continue the route via Carrer de Cirilo Amorós to the Turia Gardens. It is so wonderful to cycle through this green zone. While cycling, you come across many things: football fields, rugby fields, beautiful trees, bridges, fountains and buildings. For example: the beautiful building Palau de La Musica. I call it the palace in the riverbed. You will definitely notice why I call it like that! It is a beautiful concert hall, where all kinds of concerts are being given. They also often organize art exhibitions and open-air concerts.
Where you have to cycle along: Palau de La Musica, Gulliver, Ciudad de Las Artes y Sciencias
Where you have to put your bike aside and take a look: Museum Las Ciencias Principe Felipe, L'Oceanografic, L'Umbracle, L'Hemisferic, Rooftop terrace 270 Grados Sky Bar
Where to eat: Restaurante Vertical (chic dining with views of Ciudad de Las Artes y Sciencias)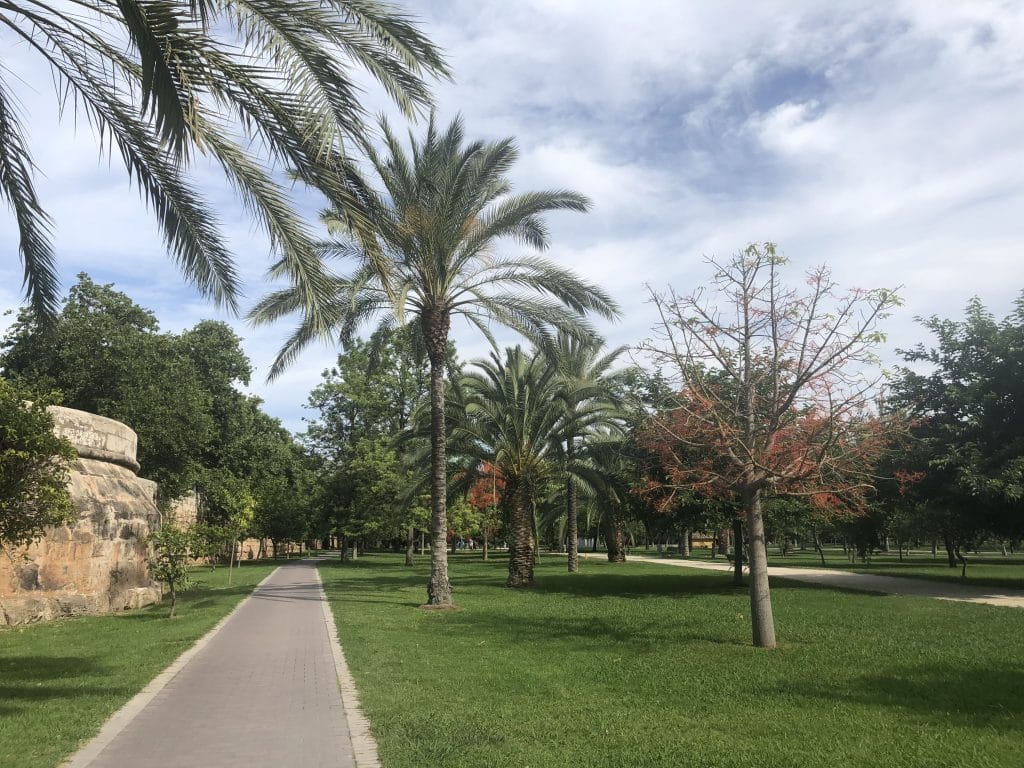 6.End Route – The district el Cabanyal
After you have cycled through the entire park, you cycle towards the beach where you will discover the district El Cabanyal. To cycle to the beach, you have to leave the park after the Museum of the City of Arts and Sciences. You have to take the street named Menorca and turn right at Avinguda del Puerto. Both streets have a cycle path.
Always when I walk through the streets of Cabanyal, it makes me think about the city Cuba: old houses with beautiful colours and nice tiles. Be aware that you don't have to visit this neighbourhood in the afternoon. Actually, this applies to all neighbourhoods in Valencia. In the afternoon the Spanish people have siesta. That means that all streets are empty and all shops and bars are closed. You really get a wrong imagination of the neighbourhood. I recommend visiting Cabanyal in the evening. In the evening this district is very cosy. It has lots of nice bars and restaurants.
Where you have to cycle along: the harbor and Veles y Vents,
Where you have to put your bike aside and take a look: Mercado de Cabanyal and an old ice factory transformed into a trendy bar: La Fabrica de Hielo
Where to eat: Restaurante Panorama (luxury dining with view on the beach), Casa Montaña, La Otra Parte, Ca La Mar and Ultramarinos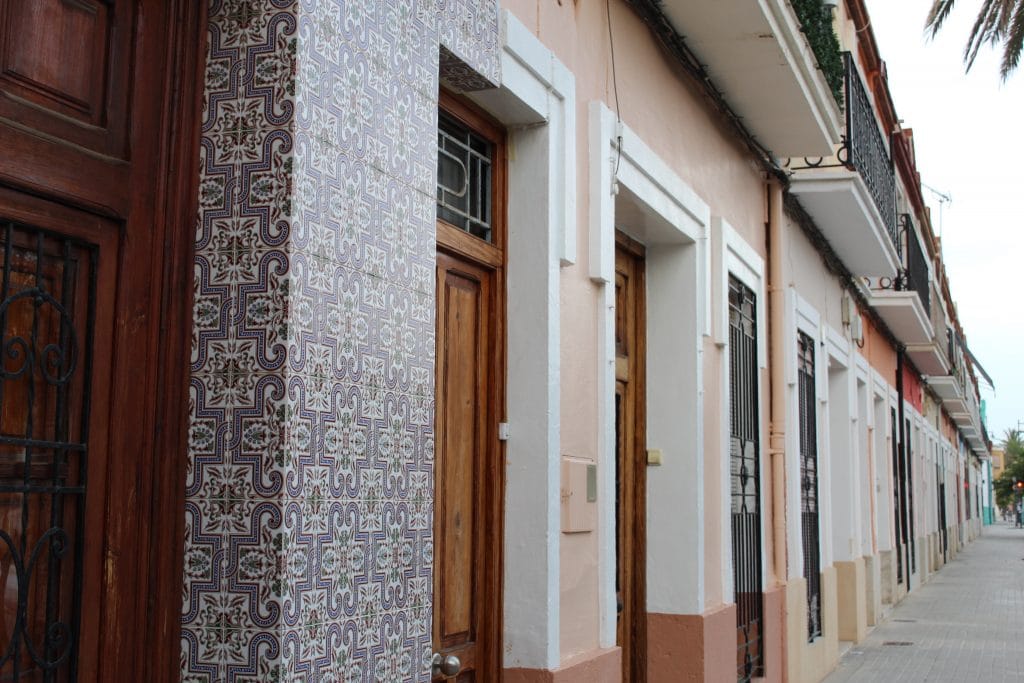 This was the end of the bike route through Valencia. I hope you liked reading this post. Have fun during your city trip in Valencia!
Love, Sofie
Soofinvalencia – blog with personal tips about Valencia