When I have eaten both tasty and healthy, I feel very satisfied. Do you recognize this? For me it's win-win situation. That's why I made a list of nice lunch spots in Valencia where you can eat tasty and healthy. But not worries if you don't want it to be too healthy, because these lunch spots have many options on the menu you can choose from. Enjoy your lunch!
1.BeGreen
I'm so glad that I've discovered this place. BeGreen has become one of my favourite spots in a short time. They have delicious salads, wraps and fresh juices.
Maybe it's because of my Greek roots, but the BeGreek salad is my favourite. The BeGreek salad is with quinoa, feta, dates, red onion and cherry tomatoes. I am also a fan of Moroccan food and therefore I often choose the BeMarocco with couscous, chickpeas, dates, feta, parsley and a Harissa sauce. Do you prefer a wrap? The Wrap Hummus with spinach, dried tomatoes and hummus is a good option! The Wrap Pollo with chicken and caramelized onion is also very tasty.
Tip! You can also choose for food to go! 'Para llevar' they say in Spanish. Take a carpet with you and eat your lunch in the Turia Gardens.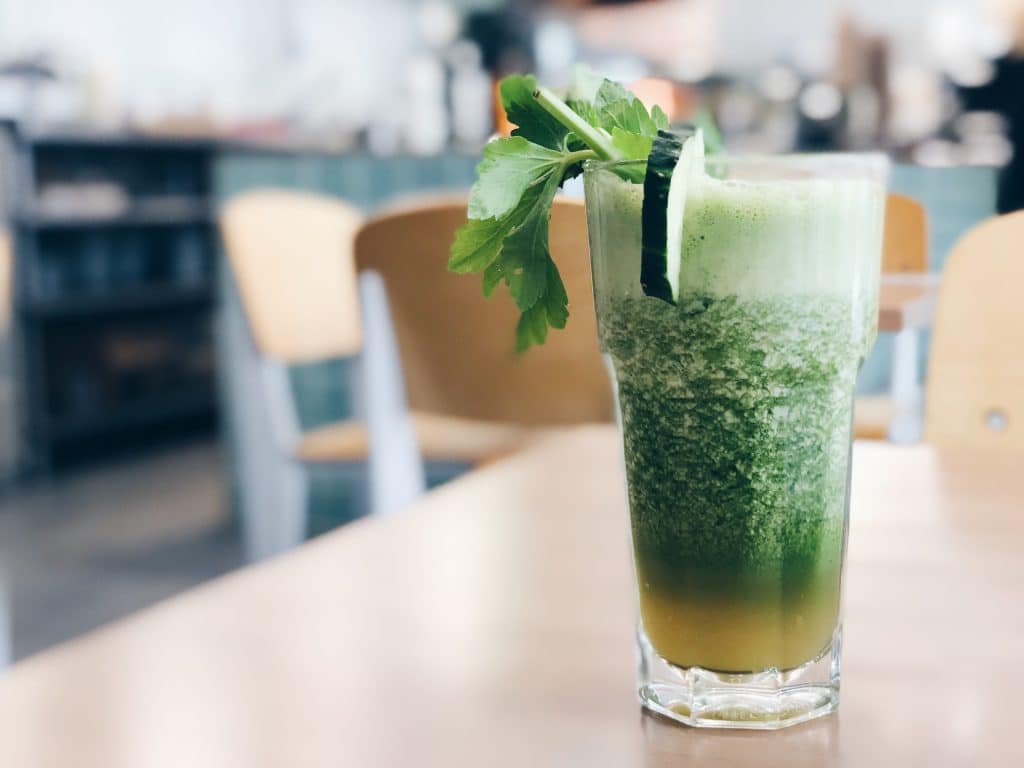 This has been a favourite for as long as I live in Valencia. My friends introduced me to the acai bowl. I've been hooked ever since! You can definitely wake me up for it. The acai bowl is not that healthy, because it contains a lot of sugar, but the berry where acai is made of, is very healthy. You can also choose different toppings such as fruit, chia seeds, nuts, muesli and so on. The version 'The Runner' or in Spanish 'Correcaminos' is my favourite!
Besides the acai bowl, they also have delicious salads, vegetarian burgers, small snacks and juices. The hamburger of quinoa and chickpeas with the sauce Del Abuelo is delicious! My favourite salad is the Bowl Elbrus with quinoa, carrot, hummus, champions and feta cheese. Bon appétit! Or in Spanish: que aproveche!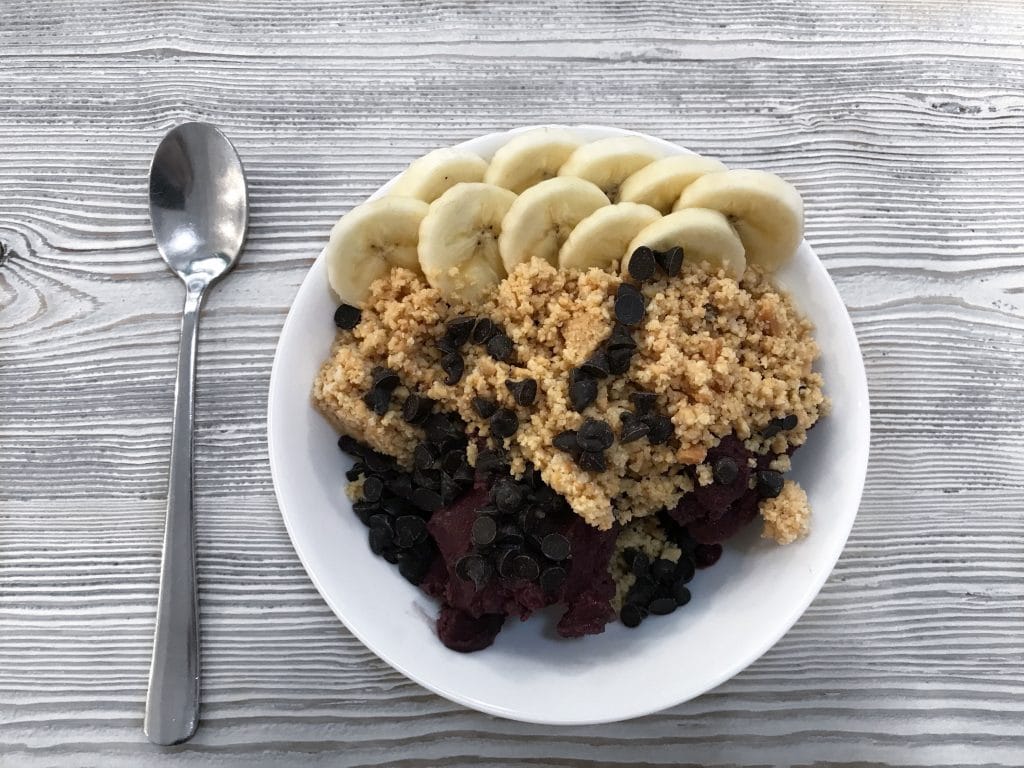 The best in Ruzafa if you ask me! A nice couple from Germany and Pakistan are running the place. Artysana is nicely decorated and they have a lovely courtyard. Everything on the menu is vegetarian. I often choose the brunch menu that they offer. The brunch menu is much for little! For me personally the best option is the toast with hummus and cucumbers or the toast with avocado and salmon.
An extra tip! Artysana often organizes events such as life music. Keep an eye on their Facebook page! ☺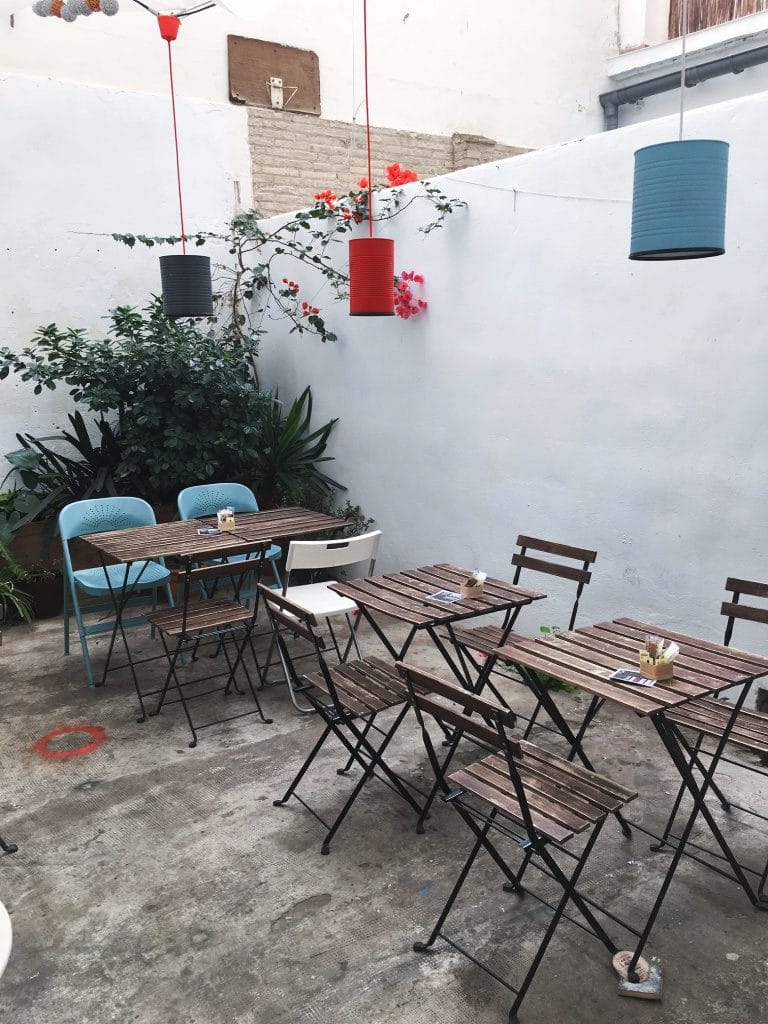 4.Bluebell
Bluebell is a nice lunch bar in Ruzafa. They pay a lot of attention in decorating their plates. It always looks very nice and it tastes delicious! A disadvantage at Bluebell is their service. Sometimes it can take a lot of time before the waiter/waitress takes your order. But when you finally have your lunch, you will be surprised. They have delicious sandwiches on the menu. The waffle with truffle, ham, arugula and a poached egg is really great! Also the pancake with salmon is lovely!
Besides great sandwiches, they also have good coffee. BlueBell is actually best known for their coffee. They organize a lot of workshops and they try out many new varieties. So for the coffee lovers, Bluebell is the place to be! For more tips about coffee bars in Ruzafa you should read my blogpost '8 x the best coffee bars in Ruzafa'.
Tip! Bluebell has a lovely courtyard.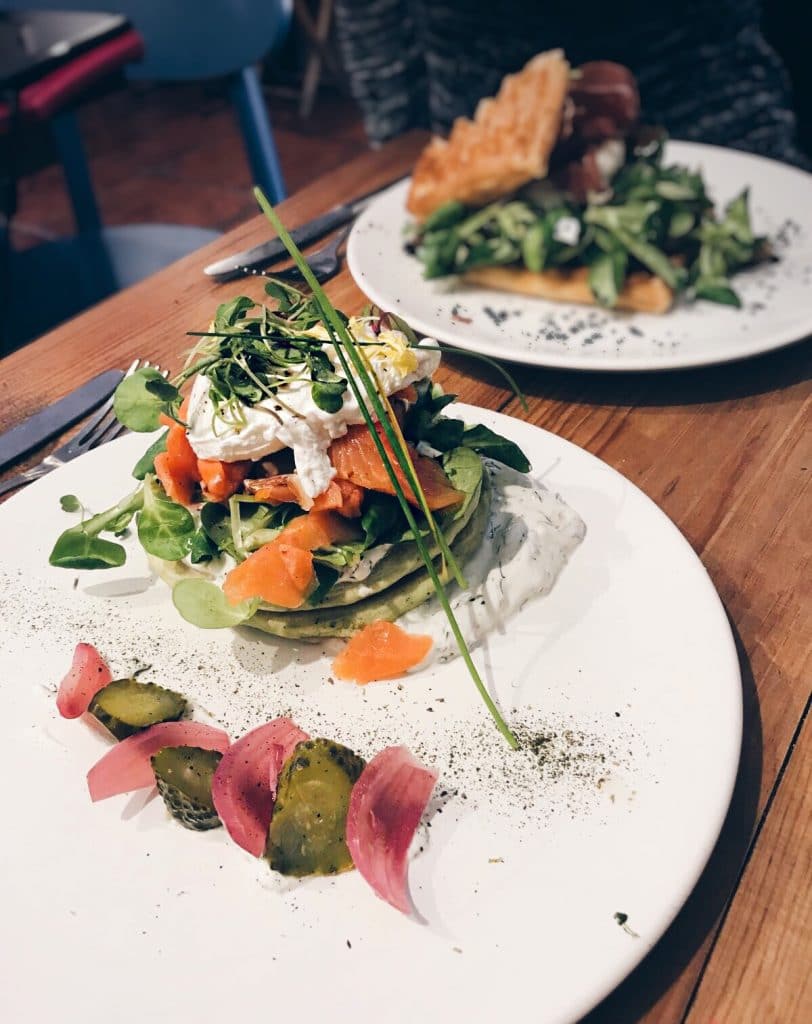 5.Aloha Vegan Delight
Do you want to go for a picknick? Or do you feel like taking a juice to go? At Aloha Vegan Delight you can get your vegan lunch to go. Order something and take it with you to the Turia Gardens for example! Another nice place to go is Plaza de La Virgen. I often drink my juice at the fountain of this square. It so lovely with the sound of the water! You can also sit on the stairs in front of the Basilica. It's never boring to sit there, because on Plaza de la Virgen there is always something to see. One day someone is singing and another day someone is playing guitar. It has a lovely atmosphere!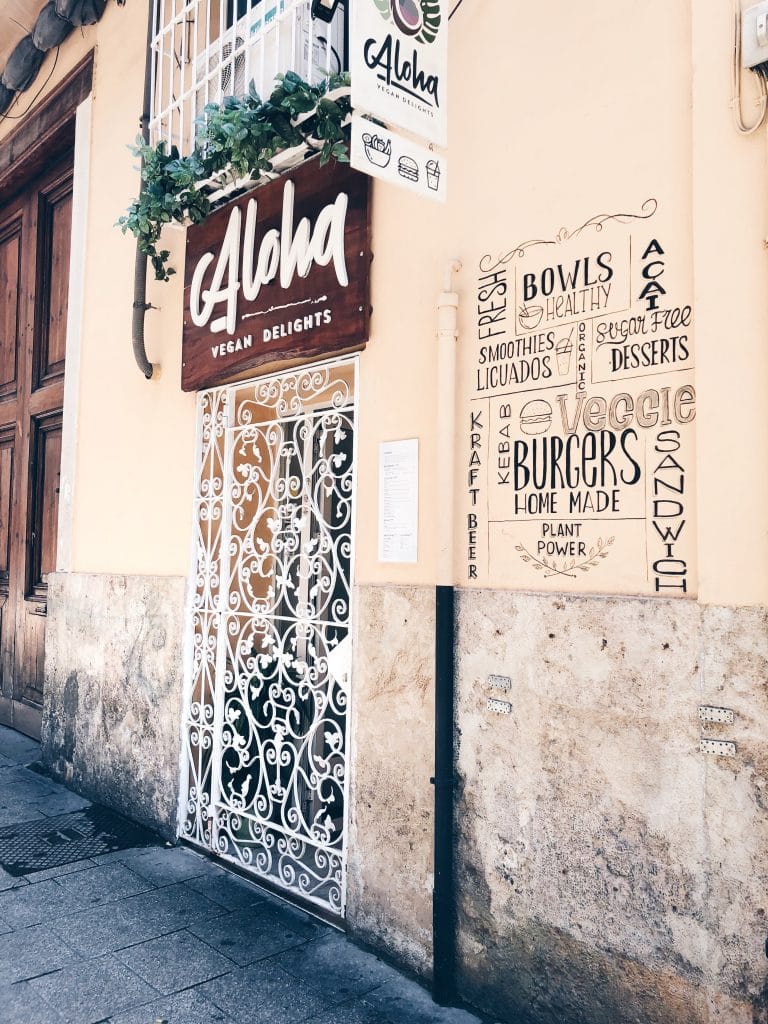 6.Federal Café
On a beautiful hidden square you can find Federal Café. It's always crowded, because it's a popular hotspot. Federal Café is not only located in Valencia, but also in Barcelona and Madrid. A successful concept!
On the menu you can find sandwiches, salads, hamburgers, snacks and juices. My favourite sandwich is the one with avocado, pumpkin seeds, lime and a poached egg. I always choose this sandwich, but there are probably many more great options I still have to try!
In summer the big windows are opened. With the open windows they create a special way to drink your coffee or to have a lunch. With one foot inside and the other one outside!
An extra tip! In my blogpost 'Federal – hotspot in the centre of Valencia' you can read more about this coffee bar.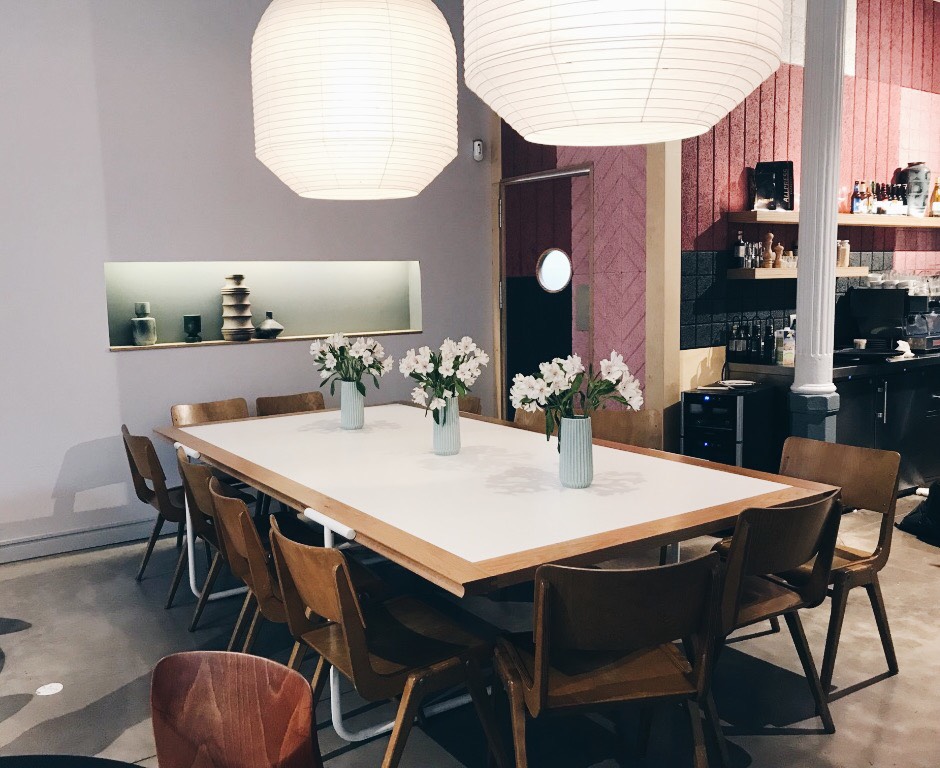 Last but not least, Rawffee! For a lunch break at a great decorated bar you have to go to Rawffee. They have about 15 different types of juices. Juices with vegetables, juices with fruit, juices with vegetables and fruit, you name it! They also have sandwiches, salads, soups and snacks such as hummus and guacamole. Once I ordered the brunch menu with avocado toast, cream cheese and nuts and the Rawfreesh juice. It was great! Que aproveche!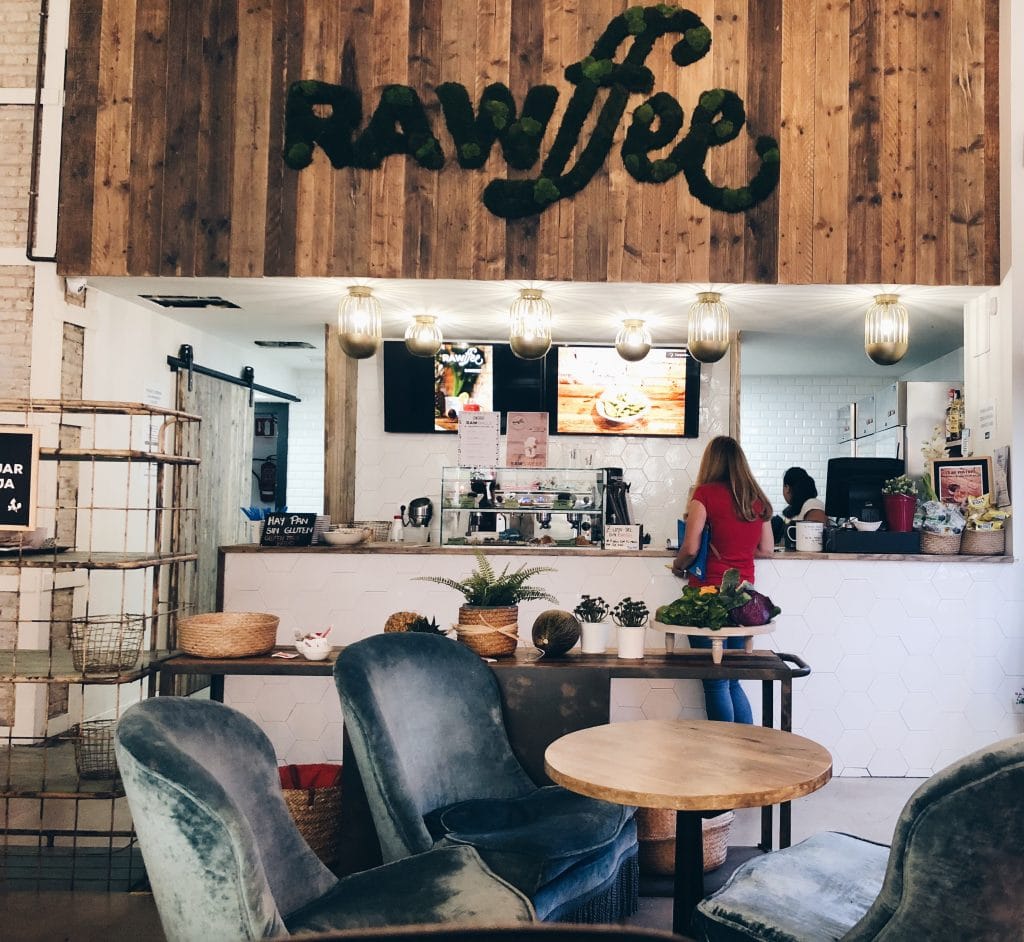 I hope you liked my tips about these lunch spots in Valencia. Of course you can also cheat during your vacation. If you want to eat great tapas you have to go to Tinto Fino or Tanto Monta. Enjoy your vacation in Valencia! 🙂
Love, Sofie
Soofinvalencia – Blog with personal tips about Valencia