In a big city like Valencia you obviously can find a lot of squares. The ones you will definitely see are Plaza la Virgen, Plaza del Ayuntamiento and Plaza la Reina. Besides these famous squares Valencia also has some hidden squares that are very charming. Below I made a list of these squares.
Placa Rodrigo Botet
Placa Rodrigo Botet is a square in the historical centre of Valencia. I really like this square because it's very charming. It has a beautiful fountain in the middle surrounded by trees and beautiful old buildings. You can enjoy the view and the good weather on one of the terraces. I absolutely recommend to visit the square in the night to see the fountain beautifully illuminated. And don't forget to step inside the famous coffee bar Federal. It's a really nice spot for a coffee, breakfast or lunch.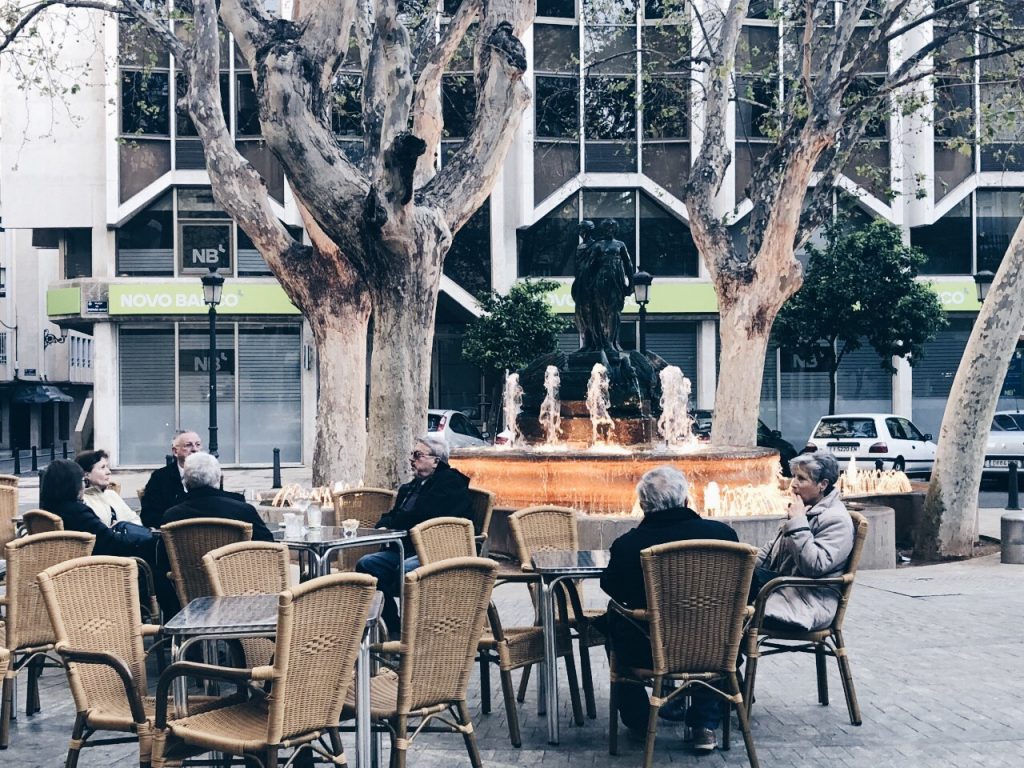 Guillen del Rey and Cobertizo de Santo Tomás – Mercado de Tapineria
In the small streets near to the Cathedral of Valencia you can find the squares Guillen del Rey and Cobertizo de Santo Tomás. Between these two squares you can find an innovative market concept named Mercado de Tapineria. Every two weeks the space is transformed to offer new products, associated with new activities. You can find 4 pop-up stores and 2 gastronomic places. At Bar&Kitchen you can eat great tapas. Mercado de Tapineria is really worth a visit. Especially in the weekends and in the evenings it's very cosy.
Plaza Patriarca
Plaza Patriarca is a charming square, filled with orange trees, a few terraces and some important buildings. You can find the oldest university of Valencia known by the name La Nau and Colegio del Patriarca, a National Artistic Historical monument. It's a church from the 16th century where priests were being educated. Since 1959 it also has his own museum: Museo de Patriarca. On the square you can also find two very good restaurants: DeliRant and Tago Mago.
Plaza Patriarca is definitely worth a visit, because the square is not only beautiful but also quite. Nice for some relax time!
Placa del Negrito is a famous square in Valencia to have a drink before the nightlife starts. It's a small square in the neighbourhood El Carmen filled with terraces. Its most characteristic element is the fountain that is in its centre, topped by the naked figure of a child holding a shell from which the water springs. This statue is made of cast iron, which gives it a dark color, so it was soon popularly known as El Negrito (The Negro). The name became very popular and in 1940 the previous Plaza de Calatrava was changed to the name Plaza del Negrito.
When you are planning on going to Placa del Negrito for some drinks I recommend you to try out Agua de Valencia! A famous cocktail in Valencia with orange juice, wodka, cava, gin and sugar.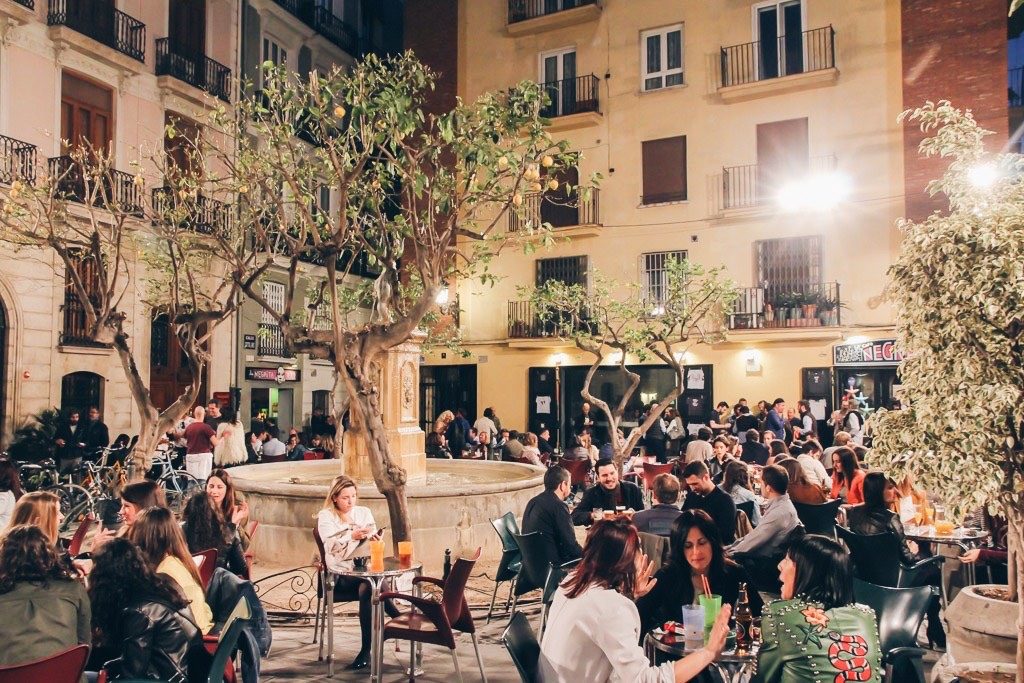 Plaza del Carmen
If you are looking for a quiet square where you can eat some tapas, Plaza del Carmen is the perfect place. Like the name is saying, Plaza del Carmen is situated in the neighbourhood el Carmen. On the square you can find the church: Iglesia del Antiguo Convento del Carmen and two gastronomic restaurants. A famous one, with two locations in Valencia is Maria Mandiles. It's a great tapas bar, which reminds you of grannies house.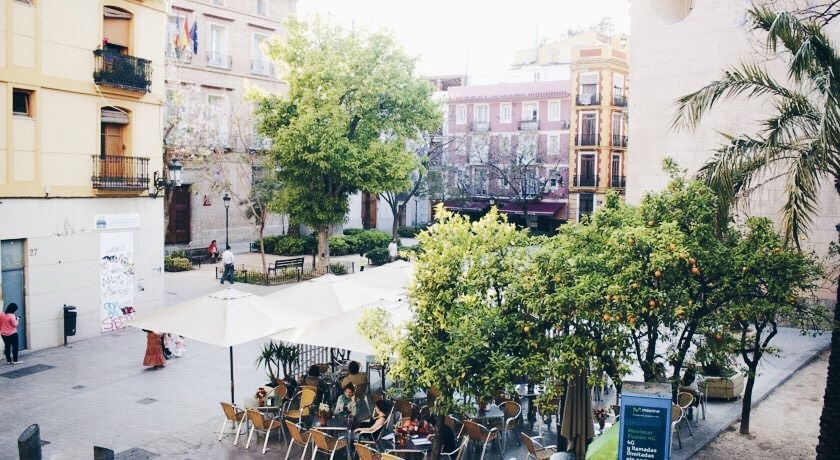 Placa de Sant Vicent Ferrer
Another beautiful hidden square in Valencia is Placa de Sant Vicent Ferrer. Like many other buildings, streets and churches, this square is named after the patron saint of the city: San Vicente Ferrer. I recommend you to visit the square in the night to see the beautiful illuminated fountain. Behind the fountain you can find the church of Santo Tomás and San Felipe Neri. This church is built in the 18th century in a Baroque style. In 1982 the church was declared a National Artistic Historical Monument.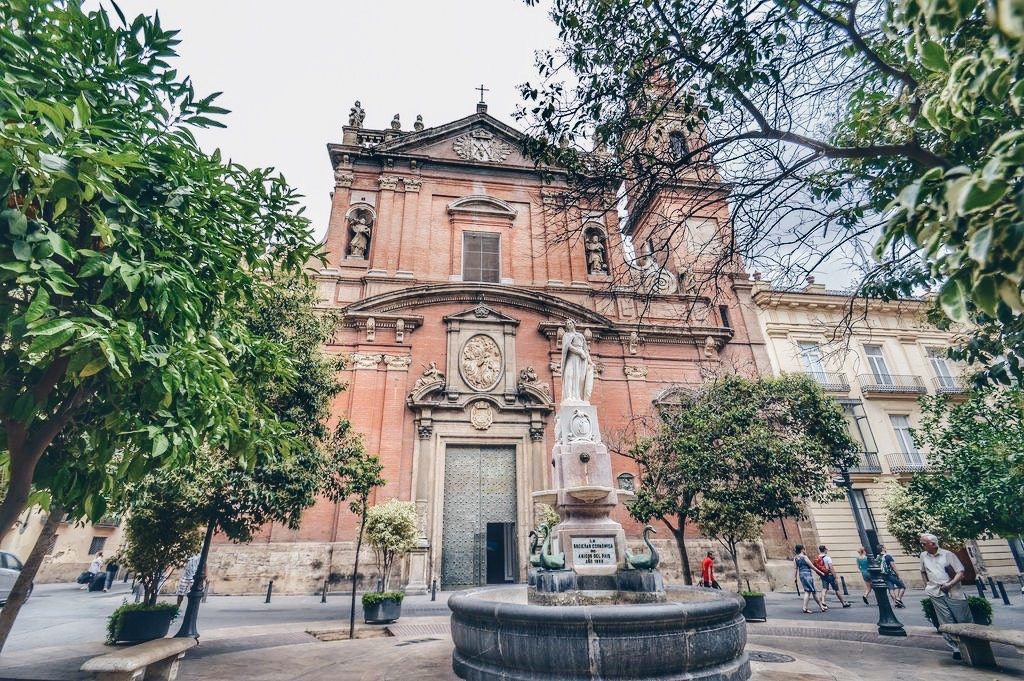 As you can see Valencia has a lot of hidden squares. And there is a lot of more to discover, because I only mentioned the ones that I like the most. I wish you all a great city trip to Valencia!
Love, Sofie
Soofinvalencia – blog with personal tips about Valencia